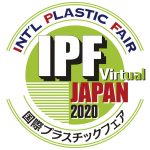 HARMO Co., Ltd. will exhibit at IPF Japan 2020 Virtual for three days from November 18th to 20th.
Exhibition information
Venue:Online (Special Virtual Exhibition)
Interactive period:November 18th, 10:00AM to 20th 6:00PM, 2020
Hosting period:From the end of interactive period to May 21st, 2021
Exhibited Pavilions:Molding Machines / Auxiliary Equipment and Smart Factory / Robot / IoT
Highlight
Highly recommended point from Harmo is "DATA LINK" this time.
How do you realize the automation of the molding line during this COVID-19 pandemic?
"DATA LINK" to answer customer's needs such as "Time reduction", "Labor saving" and "Improve defect rate" by linking Harmo peripheral equipment.
In addition, Harmo original products such as Gran-cutter to double the recycling rate and 2-axis servo driven swing robot, EXZII to improve the prodcutivity with shortened cycle time e.g. increased nearly 1.3 million earnings in one year.
During Interactive period, we plan to do webinars. We will introduce and demonstrate 5 products with a variety of solutions to solve customers' problems.
We are looking forward to your visit!