As a partner of injection molding
As a partner for injection molding

ABOUT HARMO
As Japan's only comprehensive manufacturer,
HARMO provides solutions for plastic injection molding.
HARMO is a comprehensive manufacturer that develops, produces, sells and services equipment related to plastic injection molding. Though our "molded product take-out robots" and "injection molding peripheral devices," essential elements of the plastic injection molding process, we offer optimal and total solutions to our customers' concerns regarding their production sites.
What is "Injection molding"?
Injection molding is a molding method where plastic resin is heated, melted and then injected into a mold to give shape to a product. HARMO provides equipment and services to be used in the injection molding process.
As a production method, injection molding is used in making a wide array of products, from electrical appliances like televisions and washing machines, daily commodities like screwdrivers and scissors, to large industrial products like automobile parts.
HARMO develops, manufactures, sells and repairs "molded product take-out robots" and "injection molding peripheral devices." offering its services in the form of total solutions. We assist customers in dealing with matters related to automation, labor saving, productivity, defect countermeasures, and quality consistency in production sites.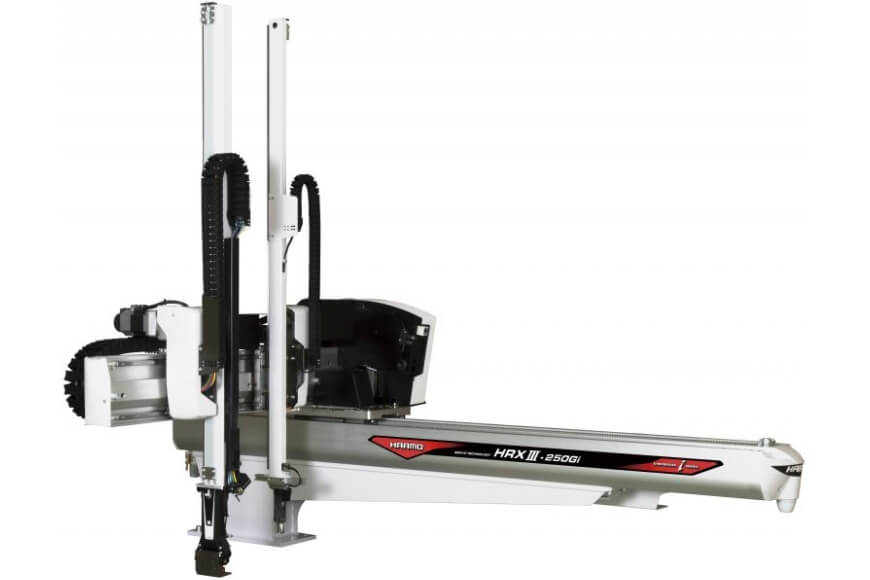 Molded product take-out robots
These devices automatically remove plastic products made by injection molding machine from their mold and transport them to a designated location. They contribute to shortening cycle times in injection molding production, where increasing productivity is a major issue.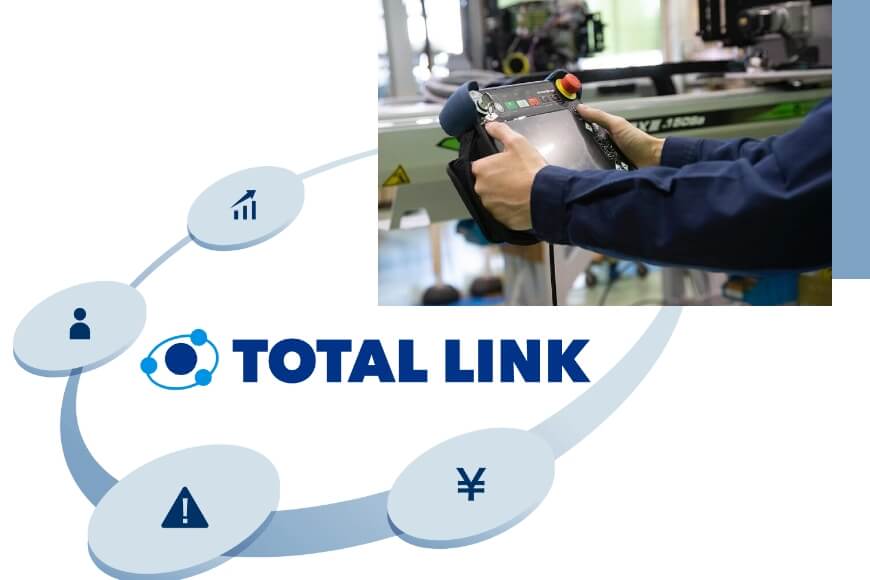 Total Link
Total Link is an original management system that promotes automation, quality improvement and cost reduction in injection molding by connecting injection molding peripheral devices and collectively configuring, activating and managing them.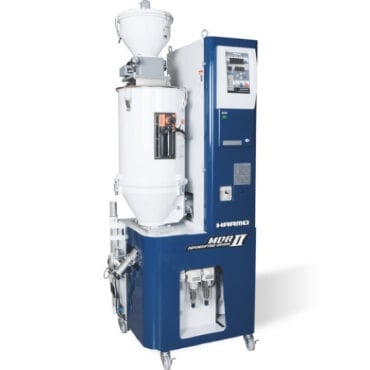 Dehumidifying dryers
These devices are designed to dehumidify and dry plastic products. Dehumidifying and drying, as well as removing fine powders, eliminate appearance defects and contribute to the consistent quality of molded products.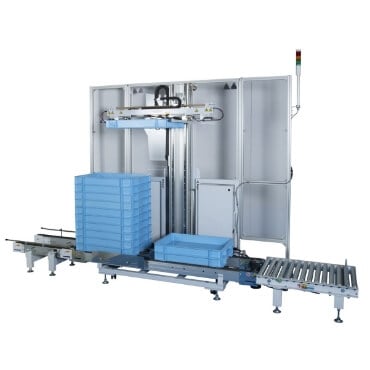 Stockers
Stockers are designed to automatically stock plastic products on pallets. Combining them with take-out robots helps reduce manpower and increase productivity.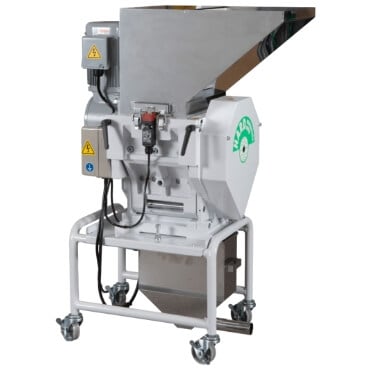 Gran cutters
These devices are used to recycle resin raw materials by cutting them into uniform grains thanks to an original mechanism, thus improving their recycling rate.
After a product has been sold, we offer maintenance assistance to ensure that products can be properly operated and used at the customer's plant efficiently and for a long time.
Additionally, we offer training on how to prevent accidents and injuries as part of our "HARMO School" safety training course for industrial robots to ensure the safe and correct use of our equipment.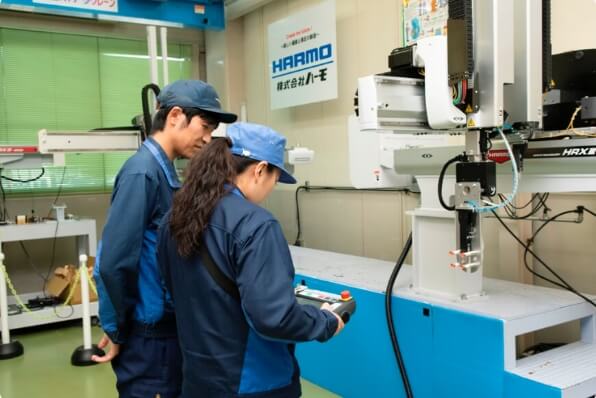 As a partner in plastic injection molding to our customers, we suggest improvements for minor concerns and wide-ranging problem they may have. Our more than 60 years of achievements and experience have taught us that there is no process that cannot be improved.
Assistance with all "pre- and post-processes" of injection molding
The injection molding process itself consists of various subprocesses, from pre-processes that precede main processing by injection molding machines like regulating mold temperature and preparing and transporting raw materials to post-processes where molded parts are taken out, stocked, dried, and packed, and we can propose improvements, mostly focused on automation, in all such pre- and post-processes.

Total Link system for managing the entire production line
Total Link is a management system that ensures automation, quality improvement, and cost reduction in injection molding processes by connecting injection molding peripheral devices and collectively configuring, activating and managing them.
Total Link, which solves problems like configuring each device, once a complicated process, time-consuming setup changes and inconsistencies in the quality of plastic molded products could only have been designed by HARMO, a comprehensive manufacturer with more than 60 years of achievements and experience.
Japan's only comprehensive manufacturer of injection molding peripheral devices

HARMO is a comprehensive manufacturer of take-out robots and peripheral devices for plastic injection molding machines. In Japan there are four companies that produce take-out robots, but HARMO is the only one that makes peripheral devices. Which makes us Japan's only comprehensive manufacturer.
We also receive many inquiries about our gran cutters (*), which were developed to facilitate the recycling of plastic materials. Thanks to a mechanism for cutting sprues and runners with a unique swing motion, this device is able to cut plastics into grains with an efficiency openly acknowledged by our competitors. Being a comprehensive manufacturer also allows us to make proposals that include even how to reuse waste materials.
* Gran cutters are devices for recycling plastic raw materials. HARMO's patented unique mechanism improves the recycling rate compared to conventional crushers.
The advantages of being a comprehensive manufacturer

TOTAL LINK was developed by considering what we could accomplish in virtue of being a comprehensive manufacturer. By connecting and operating robots and peripheral devices, Total Link is able to shorten setup times and prevent human error. Additionally, in the event of a peripheral device malfunctioning, the robots will take the appropriate actions to prevent material waste and defective products.

HARMO's strength as a comprehensive manufacturer consists in not only being able to offer total proposals for molding sites, but also being able to single-handedly carry out maintenance and after-sales assistance.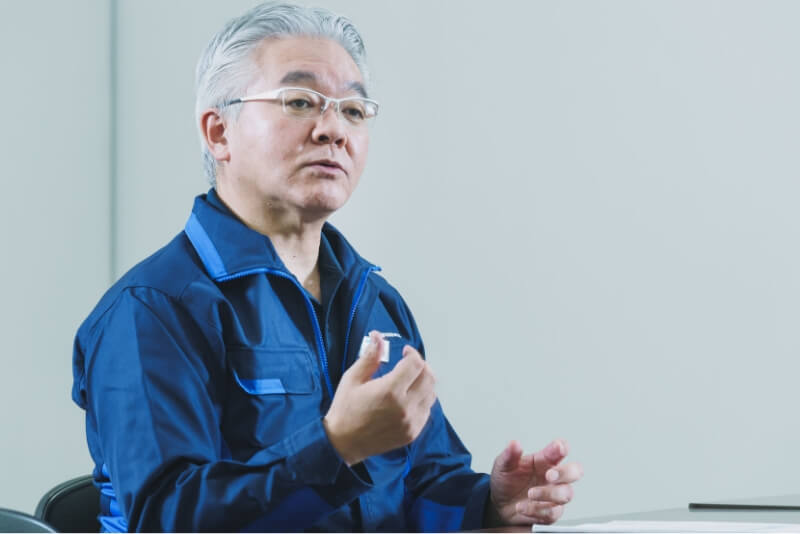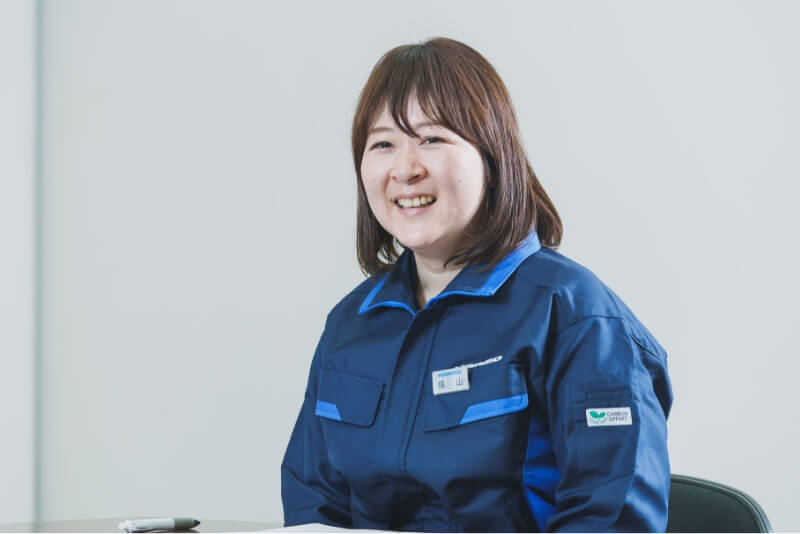 Total Link was developed in order to enhance our strengths as a comprehensive manufacturer, and that constituted a unique opportunity for the entire company to get involved in addressing problems faced by customers. At the Business Promotion Division, we act as a bridge between departments and we also work on new initiatives like web marketing and the holding of private shows in order to convey information to customers in an easy-to-understand manner.

In the past, the overwhelming majority of inquiries were "please give me this product" or "please give me a quote," but now I get a lot of requests for specific solutions to problems. I really get a sense that people think that HARMO can solve their problems.